OCT
to give Gulou Waterfront innovations
OCT Gulou Waterfront Eco-cultural Tourism Resort, with a total investment of 5 billion yuan,
is an innovative integration project of new-type urbanization + beautiful countryside launched by OCT Group.
It is committed to constructing a benchmark for eco-cultural tourism in the Greater Bay Area and a model for beautiful villages in China.
It is one of the prime cultural and tourism construction projects of Guangdong Province in 2020.
It is also an important starting point for Jiangmen to "endeavor to build a hundred billion cultural tourism industry and focus on the leading project construction".

China's ecological civilization construction defined by 5G standards
In September 2019, Jiangmen OCT took over Gulou Waterfront scenic area and invited a myriad of top professionals to investigate, research and discuss, respecting the six principles of "revitalization, inheritance, adherence, protection, green and utilization",
Integrate and make the utmost of the ecological wetland, mulberry fish pond, aborigines' inhabited residence, folk culture and other resources of Gulou Waterfront.
Deepen tourists' experience and multi-dimensionally show them the glamourous life picture of the water resort.
The new 5G standards, "Green, Good, Group, Grow and General", are to define China's ecological civilization construction.

Retain aborigines, and maintain the original life of Gulou Waterfront
Gulou Waterfront, as a rarely pristine Waterfront in southern Lingnan,
is dotted with fish ponds, a network of rivers, villages, running water, stone bridges, encircling piers, banyan trees scattered among them,
and the attractive scenery of small bridges, running water and houses can be seen everywhere,
which are also unique features of the Waterfront.
It takes the core development strategies, "revitalize culture, advance ecology, focus on circumstance, and conduct infinite innovation".
to preserve the living memory of the 700-year-old village,
to connect the rural life with contemporary aesthetic pace, to revitalize local culture,
and to realize the co-integration and symbiosis between the areas and the villagers.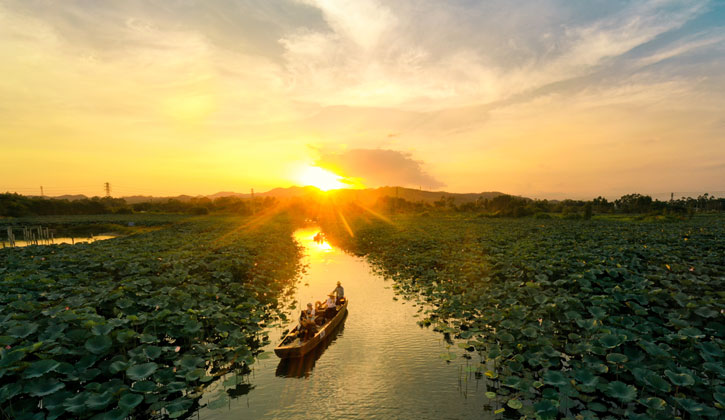 A museum in the Waterfront without walls
OCT Gulou Waterfront Eco-cultural Tourism Resort,
the overall planning project covers an area of about 10 square kilometers, of which the main scenic area is about 3 square kilometers,
including the core scenic area with a coverage of three parks, Happy Waterfront, Gulouxu Commercial Street, and Pure Waterfront Ecological Residences,
and agricultural and Wing Chun cultural heritage revitalization areas.
To break the exhibition form confined in a given space by means of big curation,
The collection of life in the Waterfront is executed in the extant villages and life forms, so as to establish a museum in the Waterfront without walls.
Upon coming to fruition, it is expected to receive 3 million to 5 million tourists per year.